How to use Pinterest for Business for your Digital Marketing
A Pinterest case study with KPIs and Insights
Have you tried Pinterest for Business in your digital marketing mix? Are you familiar with Pinterest KPI? If not, then it is about time to get familiar with this new platform. In this article I want to share the insights and results from a digital marketing campaign we conducted for our clients. At the end you will find a list of Frequently Asked Questions we received after our webinar, where we introduced this case study from our Pinterest marketing agency.
Your additional resources:
Below you can find
Pinterest Marketing Examples.
Pinterest Marketing KPI explanations.
The complete video recording from the Pinterest Marketing webinar with more information about the Pinterest Case Study.
A series of podcast episodes about Pinterest Advertising and Marketing.
The presentation slides from the webinar in a swipe-able format. Check out the Pinterest marketing tips at the end for your team and your Pinterest marketing agency.
The Frequently Asked Questions (FAQ) from the webinar and management briefings.
Tips from the Pinterest marketing agency team.
If you need help with your digital marketing strategies, contact our digital marketing agency. We are here and happy to discuss your requirements and provide ideas, strategies and tactics to help you achieve your goals.
Application of Pinterest Advertising in local Healthy Nutrition and Lifestyle Industry
Our client is a locally well known brand in the sector for healthy nutrition and lifestyle. The brand is quite strong and enjoying increasing awareness. We worked with the client previously to get their website ranked in the top 1-3 positions in search engine results.
For this project the client approached us about a new educational event series. The owner of the business was looking for a way to increase event registrations from potential clients with a high affinity for the major product lines of her business: healthily lifestyle, healthy nutrition, mental and physical health.
Why we chose Pinterest Marketing for Business for this campaign
When we narrowed in on a suitable mix of platform, channel, creative and targeting we also had Pinterest on our list. This was a highly controversial topic. Why? Pinterest had not yet been tested for local marketing and event based conversions. Also, it was not clear we if were able to build up and target an audience is a short period of time.
For any campaign you always need to ask the key questions:
Can you find the key target group on Pinterest?
Is there enough inventory i.e. potential customers looking for what you have to offer in the timeframe you are looking for?
Can you generate conversions?
Can the campaign surface demand efficiently, i.e. at acceptable cost per acquisition (CPA)
For your benefit, I would like to share the detailed results and approach in the Pinterest case study.
Use Pinterest KPI and Audience Insights to identify your target market segments
On the other hand, Pinterest offered something very unique which could be helpful for this particular project:
An audience which is looking for inspiration
Visually oriented content search, which aligned well with the quality and type of content we had.
And after some research we also surfaced an audience which matched the affinity categories of products and services.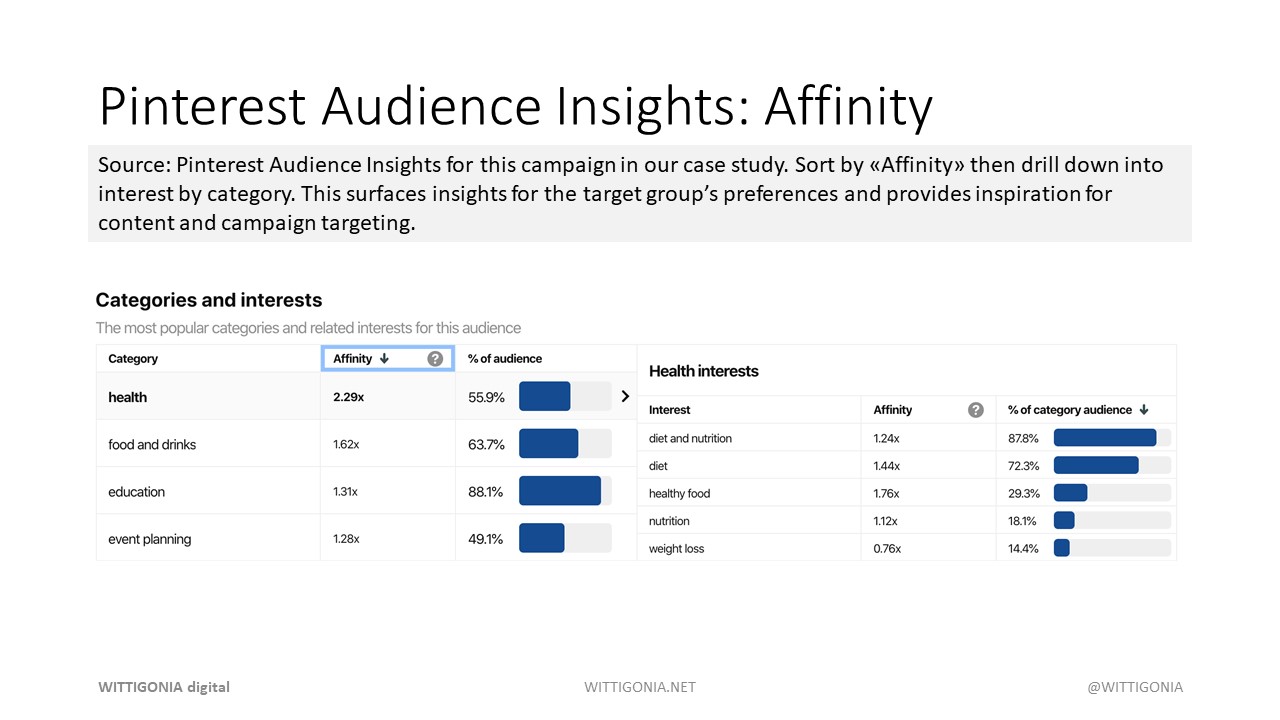 Pinterest KPI for Advertising Campaign Performance – Case study results
After the initial sprint of two weeks we saw already encouraging results in the Pinterest KPIs in terms of build up of the Pinterest audience:
Total audience size: 130'000 members.
Interacting audience: 2'400 members.
Conversions: 95 conversion events.
Engagement rate around 2%.
Pinterest KPI for Efficient Customer Acquisition
The efficiency of the Pinterest for Business campaign revealed promising results:
CTR: 16%
CPC: € 0.67
CPA: € 4.21 per conversion
Close-up rate: 1.9%
Click-to-closeup ratio: 16.3%
Pinterest KPI for Audience insights:
8 times more mobile users than desktop PC users.
Surprisingly few tablet PC users.
2.5 times higher engagement rate of mobile users.
High affinity with the brand and content.
Pinterest Marketing Campaign Insights and Key Takeaways
On Pinterest demand can be surfaced very quickly and efficiently. The audience build up produces results fairly quickly. This enables you to check early if there is a good match between the audience and your ideal target group.
Local, regional targeting is possible but still somewhat limited. Unlike other platforms like Facebook, at the moment you cannot target customers very precisely based on their geographical location. We invented some work-around tactics to narrow our targeting as much as possible.
The engagement rate and click rate may be somewhat low. This is still in line with results we see on other platforms for initial campaigns. Continued optimization of creative, copy, call-to-action and benefit proposals can push this boundary.
Use the Pinterest KPI "Click-to-Closeup-Ratio" to select "winning pins"
Keep an eye on the "Click to Close-up Ratio" to pick winning Pins! This is not a Pinterest KPI that is reported out of the box by Pinterest. But you can easily calculate it yourself. You can do this when you decide which Pins to keep and which to remove from the campaign.
Mobile friendliness is key:
Make sure to optimize both your pins and your landing pages for mobile user experiences.
Pins with rich data convert higher.
In the sample campaign for our client we implemented structured data (aka schema) to surface rich data right into the pins. This turns out to be favourable for the creative and content and it also produces higher engagement rates.
Retargeting with Pinterest ads:
You need to pay special attention to keep your audience engaged. Unlike in other platforms the membership duration of our audience is set to one month (Update: This was true at the time of the study. Meanwhile you can set the value to up to 540 days). At the time of this campaign this could not yet be changed. What means that your audience declines after one month if you do nothing.
Watch the Pinterest Case Study Video
Swipe through the Presentation from the Webinar
FAQs – Frequently Asked Questions from our Pinterest Marketing Webinar
What is Pinterest?
Pinterest is a social media network. But it is a it different. It is often referred to as a "personal media". Also, Pinterest for Business is a marketing and online advertising platform.
Check out the episode "What is Pinterest? And what is so special about it?" in our Podcast.
What is the Pinterest Marketing Click Funnel? And how does it differ from other social media platforms?
The Pinterest click and conversion funnel is slightly different from other platforms. There is an important step: The customer browses through her feed and boards or she is using the search function to find new inspiration.
When an image or video looks interesting she is clicking on it. This is called the close-up. This is an important step in the funnel. Your combination of creative, content and targeting needs to be optimized for this step.
When the content looks interesting and she wants to learn more, she clicks on a link which leads to the landing page.
On the landing page she might convert, e.g. purchase a product, register for an event or sign-up for mailing list.
How to build up a Pinterest Audience rapidly?
In our test campaign we tested different campaign types. First we created an awareness campaign. Then we added a conversion focused campaign. And after we had a significant audience we launched a retargeting campaign.
For these initial campaigns we did not produce much additional content or creative. We just used existing content we augmented (e.g. through structured data for recipes).
The next level are video based campaigns, which can accelerate your reach and conversion significantly.
What are important Pinterest KPIs for a Marketing Campaign?
Besides the size and composition of your audience I recommend keeping an eye on conversion and efficiency metrics such as CTR, CPA and the ratio of close-ups to click-throughs. These metrics are available from the Pinterest campaign report. They should be monitored frequently at the beginning to ensure you are betting on the right tactics.
What is the Pinterest metric "click to close-up ratio" and what does it tell you?
The ratio of close-ups to click-throughs is an indicator how well a pin performs. A high performing pin attracts the attention and entices the user to close up to learn more. This can be a swipe through, watching a video or reading the recipe of the pin. The CTR, click-through ratio tells you how many users who saw the pin clicked on a link which takes them to your website. A pin with a high ratio of clicks to close-ups does a better job in taking your interested audience to your website. We used this simple filter to bet on the higher converting pins and weed out lower performing pins.
What is the difference between Pinterest Community and Pinterest Audience?
A community is defined as the number of Followers on your Pinterest account.
An audience is defined as the number Pinterest users who saw or engaged with your content on Pinterest.
In the campaign situation with our client we started from scratch. In other words: we did not start with a community we could build on. Instead we created and built up an Audience rapidly. We used this audience for target potential customers with suitable content.
That means you do not have to wait until you have a lot of followers. You can target an addressable market immediately. We chose this tactic because otherwise it would take forever and we could not help our client meeting her campaign objectives.
Content Tip: Check out the mini series about Pinterest Marketing in our Podcast.
Here is in this example from IKEA Germany you can get a sense of the size of the audience (5M) and community (132k Followers).

How did you improve the Pinterest Ad user experience for mobile devices for Pinterest Ads?
First of all you need to have the basics in place: a mobile friendly website or landing page. Your pins need to be mobile friends. That means they must be easily readable for example. You can also create pins which are swipe-able on mobile devices. Then we implemented structured data (schema) on the website. Pinterest can detect these schema and pull the information right into the pin – nicely formatted. This is enriching and augmenting the content. For example, we used structured data for healthy nutrition recipes. These showed up very nicely in the pins. It turned the normal pin into a so-called "Rich Data Pin". And of course the Pinterest algorithm loves these pins as well!
Which mobile device forms are important for Pinterest advertising optimisation?
We found that mobile devices (smart phones) are much more important than tablets and desktop PCs. There were 8-10 times more users with mobile devices. Also the engagement rate of smartphone users was 2.5-3 times higher.

How to use Pinterest for local marketing?
While Pinterest is not yet capable of very detailed local marketing, it can be used for targeting a local or regional user audience. You can use the targeting options in Pinterest. Also, producing content which is more relevant for the local users plays an important role. It is essential that your marketing team and Pinterest marketing agency explore and optimize the Pinterest ad campaigns with local marketing and local SEO focus where it makes sense.
How long is the Pinterest retargeting audience available for using it in campaigns?
This question is about membership duration. The Pinterest audience membership duration is one month. We tested this in our first campaigns and found that the default and only option at the moment. Maybe that is changing in future. On other platforms the retargeting audience membership can defined more flexible, for example up to 540 days.
But the one month membership also makes some sense for marketing on Pinterest. Here you find an audience which is looking for inspiration for something they want to do shortly, for example remodelling a room, cooking or preparing presents.
Check out my blog post about remarketing dynamics.
Which Pinterest Marketing agency implemented the campaign?
This campaign was planned, implemented and optimised by our WITTIGONIA® digital team, a marketing strategy consulting and Pinterest marketing agency. From companies and brands we provide marketing strategy consulting, Pinterest marketing agency services and data-driven optimisation of marketing and advertising.
Do you need help with your digital marketing campaigns and growth strategies? Check out our digital agency WITTIGONIA® digital. We provide support from strategy planning, campaign management and optimization. Please contact us to discuss your requirements.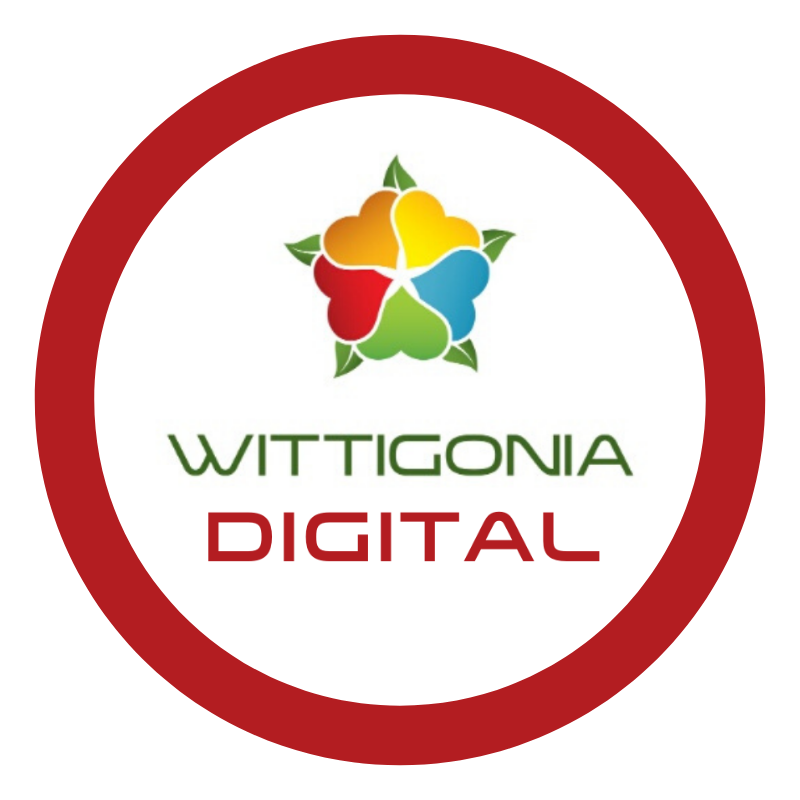 Conclusion TL;DR
In this case study I shared some of the insights and early results from Pinterest for Business campaigns. Pinterest offers a new way and opportunities for digital marketing. With the right marketing mix and campaign configuration you can build an audience with a high affinity to your brand, products and services.
If you need help with your digital marketing campaigns, check out our digital marketing agency WITTIGONIA digital.
Let's talk about your specific requirements and how digital marketing ideas, strategies and tactics could help you and your teams.