How to get more Candidates from your Recruiting Marketing Budget?
Recruiting Marketing Budget Calculator Tool
Let's start with the good news: You have more means and channels available to hire great talent than ever before! And yes, Digital Recruiting Marketing is indeed a great way to find, attract and hire employees. It is measurable, immediate and highly scalable. The question is: How to get most out of your Recruitment Marketing Budget?
Because let's face it: you are not alone and the "War for Talent" leads to an increasing competition. And you probably found out that recruiting employees directly or with the help of a recruitment agency is not always suitable. The recruiter fees are increasing linear with the number of employees you want to hire.
In this article I want to share the insights from optimizing recruitment marketing budgets and campaign of companies and public organizations. In addition, in this article you find
A Budget Calculator Tool to assist with planning and optimizing your budget.
Explanation of important KPIs in the recruiting funnel and hiring process.
An example calculation of a Recruiting Marketing Advertising budget.
Frequently Asked Questions (FAQ) about recruiting marketing budget, process and KPIs.
---
Free Recruiting Marketing Budget Calculator Tool
Use the free Recruiting Marketing Budget Calculator to estimate
Ad budget requirement
Funnel efficiency
Process performance
---
The Recruiting and Hiring Funnel can be longer or shorter depending on how you set up your talent acquisition strategy and process. Let's simplify the process and divide it in two phases:
Recruiting Funnel: This includes the steps from candidates searching for jobs to submitting an application.
Hiring Funnel: Once the candidates have submitted their application, you are engaging them in a number of steps until a decision has been made and new-hires join your team.
For now we will not yet talk about how to build your Candidate Audience and your Candidate Pool. Also, we are not yet talking about Recruitment Retargeting Marketing Strategies and Tactics.
Let's first take a look which KPIs and Factors are impacting your Recruiting Funnel Performance.
Recruiting Marketing Funnel: From Job Search to Application
Let's first take a look at the Recruiting Marketing Funnel. What determines how many applications you are getting from your job ad campaigns? (Note: of course it is important to get website traffic and visitors to your job ads from organic search. Your Recruiting Marketing Funnel may look something like this:
There is a certain Search Volume available which you can address in each time period. Your share of this volume depends on
Your Budget: How much are you willing to spend in total on your job ads?
The CPC (Cost-Per-Click): How much the advertising platform (e.g. Google Search Ads) are charing you for each click. This is another good news by the way: you only pay for actual clicks and visitors.
The CTR (Click-Through-Rate): What percentage fraction of candidates who saw your ad are actually clicking on it? The click will take them to the Landing Page (typically a job listing) on your website.
Overall Search Volume: The number of searches for job ads during a given time period, for example the searches for "Hospital Jobs in Frankfurt, Germany".
It is important to mention that these metrics are usually not stable. They change over time. This can be caused by seasonality, industry demand, economic development and simply by people considering a change in career or location towards to the end of the month.
Timing of recruiting ad campaigns is essential to capture market share and to build up the audience in time.
Consent Rate and Opt-in Rate Optimization
In many countries, advertisers and publishers have to comply with new data privacy and protection regulations. Essentially, that means that you can only communicate with customers who have given explicit consent.
For example, if you want to store CVs from candidates in your Candidate Pool for reaching out to them later, you need to ensure that you have collected opt-in from each candidate.
The same is true for your Candidate Audience. In order to tag visitors and add them to a retargeting list, you need to obtain their consent for tracking and data collection.
The impact is the same:
These constraints (opt-in and consent) limit the flow of candidates into your marketing audience and into your candidate pool.
Why is this important?
If you increase these fractional rates:
Your ability to recruit and adapt to capacity demand changes will be significantly improved.
You can scale your recruiting.
Your advertising campaigns are more efficient.
Recruiting Marketing Funnel KPIs
The KPIs which are relevant for the recruiting marketing funnel include both process and throughput metrics as well as financial and efficiency metrics.
Financial Metrics for the Recruiting Marketing Funnel
CPC, Cost-per-Click (cost per visit to your website)
Cost per candidate pool member and per audience member
Non-Financial Process Metrics for the Recruiting Marketing Funnel
Number of candidates in each state: Visitors, Applications.
Size of your candidate audience by platform (e.g. Google Search Ads Retargeting Audience size).
Size of your candidate pool.
CTR, Click-Through-Rate
Opt-in rate
Consent rate
Hiring Funnel: From Website Visitor to New-hire
Once the candidates visited your job postings and submitted applications, the Hiring Funnel and Process begins. Here you need to pay attention to different metrics.
The efficiency metrics inform several decisions:
Targeting: Are you targeting the right candidates for the open positions? Or are getting a lot of applications from candidates which do not meet your hiring criteria?
Yield: Will your hiring efforts result in the desired number of people your business requires in the expected timeframe?
Staffing: Is your hiring staff capacity and productivity adequate?
Here comes the magic word: Conversion!
Conversion means, how many candidates move from one state to the next. For example, how many applications turn into interviews. The fractional rate of Interviews per Application determines this flow.
For optimization of the end-to-end process, conversion rates in each step are essential. Usually it does make a lot of sense to pour more money into advertising if your conversion rates are low. Your process won't deliver enough newhires at the end.
Therefore, it is prudent to remove any constraints in a systematic, data-driven way.
Hiring Funnel KPI and Process Metrics
The hiring funnel KPIs should include financial and non-financial metrics.
Financial Metrics:
These metrics should include
Cost per Candidate, Interview, Application and per Newhire
Total budget spent.
Non-financial Metrics:
Interviews-to-Applications
Offers-to-Interviews
Acceptance rate (Accepted Offers to Offers ratio).
Drop-out by process step. This metric could tell you if your recruiting practices are inadequate or if your processes is moving too slowly.
Hiring Marketing Calculator
Example: How to use the calculator?
The calculator comes with a default set of metrics and performance data. These are just arbitrary example data points. You can move the slides and see how it impacts the different metrics and process performance.
This version of the calculator tool has three views:
The welcome screen with an introduction.
The data entry screen with sliders and input fields and output tables.
An Insights Summary Report with a text summary, output tables and charts.
Example: Base Case Scenario
In this scenario, you see the initial, default values. You can reset the calculator to these values.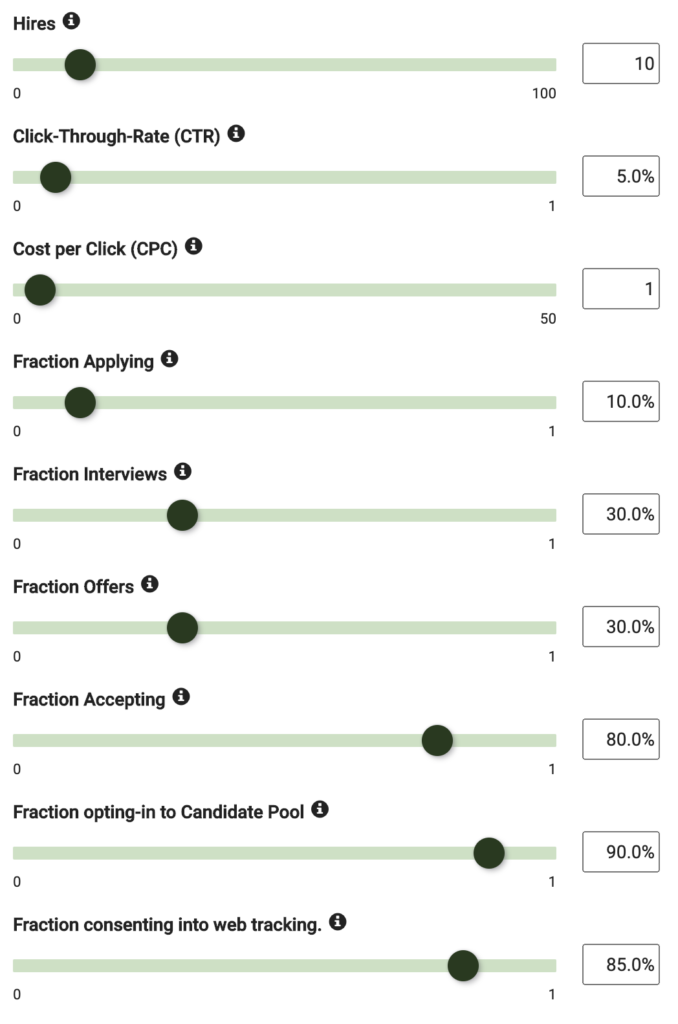 The input panel provides sliders and fields for changing parameters. Note the tool tips next to each metric.
The key question for this tool is:
What does it take to hire a given number of employees?
The base case shows that you want to hire 10 employees.
You can change each value and check how the KPIs and metrics change.
Not all the input parameters affect all the KPI and output metrics.
---
In this table you can see estimates for the volume of job page visitors, applications …up to the number of people you would get as new hires.
---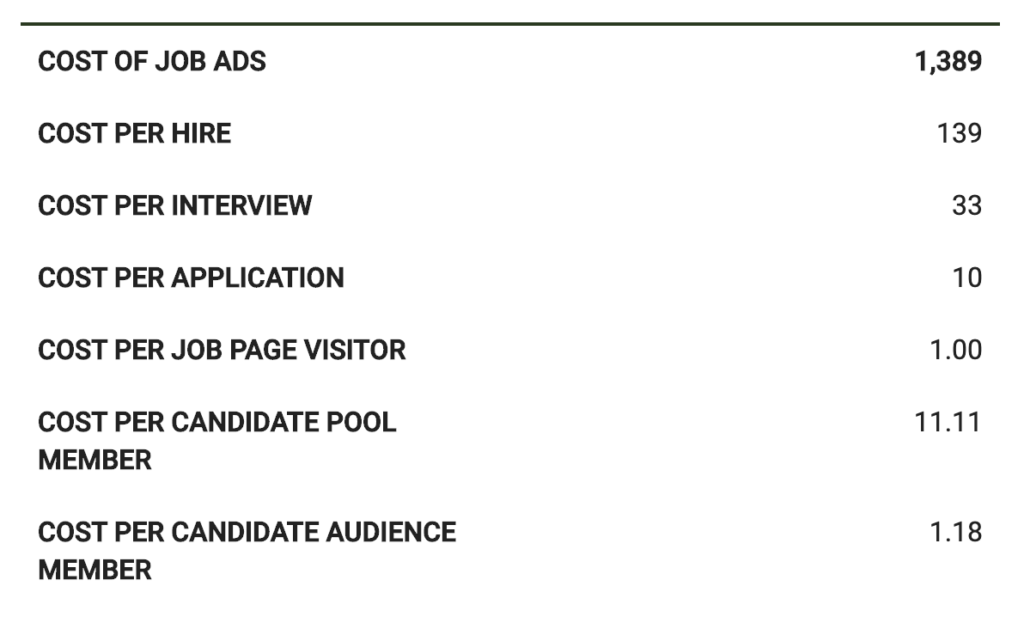 This table gives you an estimate of the cost per hire, per interview and so on.
Also you can estimate for the cost per candidate you are adding to the pool and audience. These depend also on the consent rate and opt-in rates.
---
This table provides a high level summary of the top KPIs for the recruiting marketing funnel and process.
You can find this table on the Summary Insights Report tab.
The best thing is to start playing with the sliders and input fields to see how the parameters are impacting the outcome metrics.
Then you may want to ask specific questions for optimization tactics.
Example: Estimate the impact of optimization strategies
Let's take a simple example:
What would it take to hire 100 employees with these parameters:
a Click-Through-Rate of 7.5%
Cost-per-Click of 2.5 (Euro, USD, NZD or Dinar or whatever your local currency is)
and 20% of website visitors who saw your job ad are submitting an application.

You would spend 17'361 on job ads and get newhires for 174 per person. Keep in mind that this includes only the cost of job ads. The interesting part is that you get an additional 1'250 people into your candidate pool for 13.89 per candidate. In other words, you can tap into this pool to recruit more employees later.
But it gets even better: for another 2.94 per person you are adding candidates to your retargeting audience. These are job seekers who showed already and interest in your job posting.
The tool even gives a reality check: Is there enough search volume to hire this number of people with these chosen parameters? If not, then you can start asking what-if question. Because under these conditions you would need to tap into a market of roughly 92k search impressions.
This scenario is just an illustration for what you can do with this tool. Try some different scenarios, for example:
What is the impact of lower consent rates?
How does a higher CPC impact the financial performance?
Does a higher interview-to-application ratio improve the number of new-hires? And discuss how this could be achieved.
This tool provides some directional data. Of course, proper campaign planning, creative design and optimization is required to get the most out of your recruiting efforts. Contact us to discuss your specific requirements and challenges.
Recruiting Marketing Budget Calculator
FAQ
Hiring RoI Tool: How to calculate the Return-on-Investment of Hiring?
The Return-on-Investment (RoI) depends on the variable hiring cost, fix hiring cost and the financial value you receive. You can calculate the financial benefit in the following ways:
(1) Comparative Value: What are you paying for other hiring channels such as direct recruiting, engaging "headhunters" and employee referral programs.
(2) Contribution per Employee: What is the financial contribution of an employee? For example, a sales person has a certain sales productivity, measured in Revenue/(Person*Month).
(3) Risk of lost revenue: What is the financial impact of loosing a project because you do not have the workforce capacity in place to sell, deliver or support customers.
What is to RoI of a hiring tool?
The Hiring Tool RoI depends on the incremental financial benefit you receive, relative to the additional cost of the tool. The additional cost include one-time cost (e.g. installation), fix cost (e.g. server cost, basic license fees) and variable costs (e.g. price per user).
What are important recruiting marketing metrics and KPIs?
Recruiting marketing KPIs include financial metrics, process indicators and volume data such as the number of candidates visiting your job posts on your website.

Recruiting Marketing RoI: What are the cost of an online recruiting marketing campaign?
You can use the Free Recruiting Marketing Budget Calculator to estimate the advertising cost. Depending on your situation you may need to add other cost elements such staff, tools, and creative work.

What is a talent candidate pool?
The Candidate Pool is a database of potential candidates for open positions in your organization. Depending on the legal data protection and privacy requirements there may be limitations how long you can store the information. And it is important to collect proper opt-in from each candidate for storing, processing and using the information. We can not give legal advice.
What is a candidate audience?
The candidate audience is a database of website visitors which have identified for remarketing (retargeting). This is an effective way to attract visitors to the job posts on your website. It is important to observe legal requirements before tagging and adding candidates to your audience. Marketing platforms such as Google, YouTube, Facebook, Microsoft Advertising, LinkedIn and others provide capabilities to build your audience.
What is Consent Rate Optimization in recruiting marketing?
The Consent Rate is the fraction of website visitors who have given permission that their usage is being tracked and that this information is stored in a database (e.g. in Google Ads, Analytics). The Consent Rate determines what portion of your website visitors can be retargeted through online advertising campaigns.
How to find out search impression volume for job ads?
You can use the Google Keyword Planner and related tools in Google Ads. Also Microsoft Advertising provides a similar tool and an add-on for Microsoft Excel. Please contact us, we will be happy to help you.
What is the CTR (Click-Through-Rate) for recruiting marketing job ads?
The CTR (Click-Through-Rate) is the fraction of people who saw your ad and clicked on it. Therefore, it is the ratio of website visits relative to the ad impressions.
What is the CPC (Cost-Per-Click) for recruiting marketing job ads?
The CPC (Cost-Per-Click) is the amount the advertising platform charges for each click on your ad. Therefore, CPC measure the cost of ads for website visitors. The more competition is for a certain keyword for example, the higher the CPC.
How to improve the performance of recruiting marketing ads and campaigns?
Best practices for recruiting marketing ad and campaign optimization include: A/B testing of creative, copy, headlines and Call-To-Action. Also the optimal Landing Page play an important role in terms of user experience, page load speed, security and other factors.
Which cost element affect the recruiting marketing budget?
There are variable and fix cost elements. For example the variable cost include the cost of ad distribution, campaign run time, number of ad groups and ads.
The fix costs can include staff, creative cost, expenditures for building, infrastructure, tools and equipment. These costs typically spread over the volume of candidates and applications the ad campaign produces. Therefore, the efficiency increases with reach and volume of the recruiting ad campaigns.
What are the limitations of the Recruiting Marketing Budget Calculator Tool?
The calculator estimates the advertising budget requirements. In most business situations other cost elements need to be included, such as cost of creative work, staff cost, infrastructure cost for tools and devices in case you are producing and managing campaigns in-house.
Is there support for this calculator?
Are the indicated results guaranteed?
Disclaimer: The indicated performance metrics, KPIs and results provide estimates. Individual results may vary. In no way are the indicated numbers a promise of performance or actual outcome. The "Insights Report" and other output of this tool does not constitute or represent a commercial offer or contract. Please contact us to discuss your specific situation and requirements for Digital Recruiting Marketing and Campaign Optimization.
Conclusion
Digital Recruiting Marketing is an efficient and scalable way to find, attract and hire more talented employees faster. The Free Recruiting Marketing Budget Calculator Tool provides directional data for your campaign planning and optimization. With an optimized set of parameters your recruiting results can improve significantly. Choose the right mix of strategies, tactics and platform choices to grow your organization in an agile and efficient manner.
Contact us to discuss how we can help you getting to most out or your online recruiting marketing budget.